Have you ever tried to install Windows 64bit on your mac? If you have done so, you already know that the process of installing and running Windows 64bit is absolutely fine.
Then you have to install Apple's drivers from your Mac OS X dvd.
According to Apple, only a few intel based models are capable of running 64bit Windows which is not true.
The list of apple computers capable of running 64bit Windows, which is originally published by apple is the following (http://support.apple.com/kb/HT1846):
MacBook Pro (13-inch, Mid 2009)
MacBook Pro (15-inch, Early 2008) and later
MacBook Pro (17-inch, Early 2008) and later
Mac Pro (Early 2008) and later
iMac (21.5 inch, Late 2009)
iMac (27-inch, Late 2009)
iMac (27-inch, Quad Core, Late 2009)
MacBook (13-inch, Late 2009)
etc
Unfortunately, before the driver's installation begins you may receive the following frustrating message: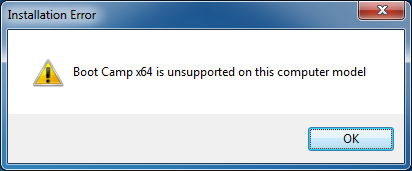 Here is the solution to your problem. By following these steps you will be able to install windows 64bit drivers on your mac.
1
Go to
Start > Computer
. Then right click on your cd/dvd rom drive where the Snow Leopard (Mac OS 6.10) dvd appears and click open.
2
From there, move to
Boot Camp > Drivers > Apple
and right click by typing (
Shift+F10
) or by using an external mouse on the file with the name BootCamp64.msi. From the list of options appeared, select Troubleshoot compatibility.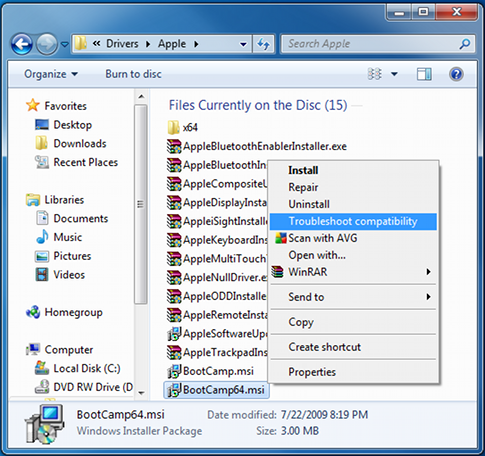 3
Wait a few seconds, and a screen like the following will appear. From this screen click on the "Start the program…" button and the installation process will begin.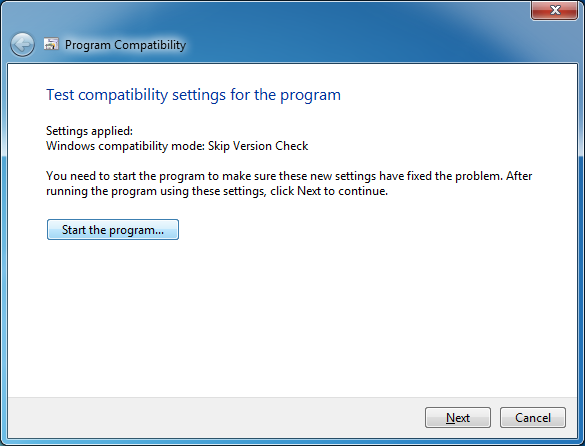 4
When the drivers are installed, you might be asked to restart your computer. When the computer boots, install the latest bootcamp update for Windows 64bit and you are done.
Enjoy your Windows 64bit on your intel based mac!